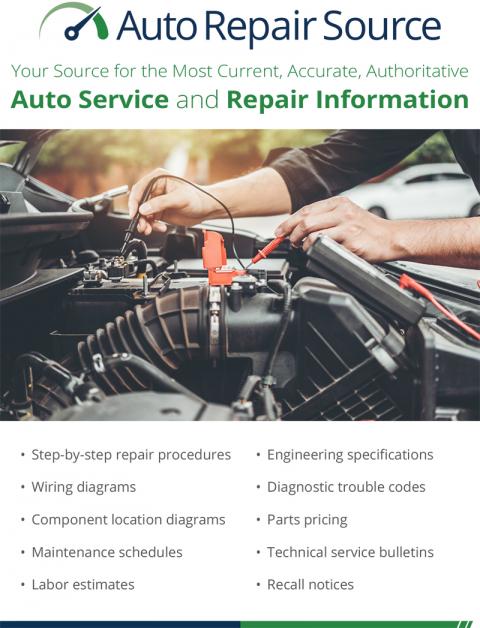 Reference database with authoritative and up-to-date auto repair and service information on more than 38,000 vehicles. All content comes from the Original Equipment Manufacturers (OEM) and includes step-by-step repair information, diagrams, maintenance schedules, parts and labor estimates, service bulletins and recalls.
Alternative Name or Keywords
AutoMate
how_to_reg Creating an account
Some resources and databases allow you to create an account to store progress or research information. When creating accounts for library resources & databases, please be sure to select "Fontana Regional Library" if prompted to select a library.
Additional Vendor Information and Help
Overview
Designed for touch-enabled devices such as laptops and tablets, Auto Repair Source offers a user-friendly search experience and access to a wealth of information to help users diagnose, repair and maintain today's complex vehicles. Diagrams and images can be easily magnified and printed.
Auto Repair Source contains the following:
Service information optimized for the most common maintenance and repair operations
Technical service bulletins and recall notices
Component location diagrams for most domestic and imported cars and light trucks
Precise and comprehensive wiring diagrams for all systems
Maintenance schedules and estimated labor times for the most commonly performed operations in a mechanical repair shop
Engineering specifications/standards for the most common repairs and adjustments
Diagnostic Trouble Codes (DTCs), flowcharts and step-by-step diagnostic instructions covering powertrain, chassis, body, and network communication
Part numbers, diagrams and pricing for thousands of the most commonly replaced parts, including manufacturer-suggested retail price, to help users validate the cost of repairs and identify all iterations of a part number or part status (current, superseded, split, discontinued)
The following list includes all of the data types available in Auto Repair Source:
Air bags
Air conditioning & heater
Battery replacement
Body & frame
Brakes
Component locations
Cooling system
Diagnostic trouble codes
Driveline
Electrical
Electronic stability controls
Engine management
Engine service
Exhaust
Fluids
Interior panels
Maintenance schedule
Maintenance
Parts & labor
Serpentine belt
Specifications
Steering & suspension
Technical service bulletins
Tires
Torque specifications
Transmission
Wheel alignment
Wiring diagrams