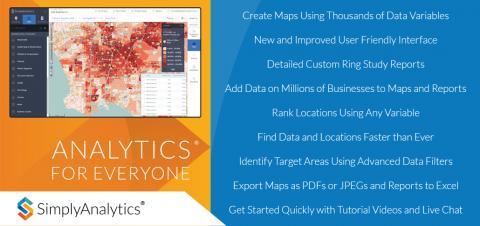 Web-based mapping application that lets you create professional-quality maps and reports using demographic, business, and marketing data.
how_to_reg Creating an account
Some resources and databases allow you to create an account to store progress or research information. When creating accounts for library resources & databases, please be sure to select "Fontana Regional Library" if prompted to select a library.
Additional Vendor Information and Help
If you're new to Simply Analytics start with the 
SimplyAnalytics Reference Guide
, designed to help you get up and running as quickly as possible. Visit the "Support" menu within the SimplyAnalytics resources for more tutorials and guides.
POWERFUL DATA VISUALIZATION
Check out what SimplyAnalytics has to offer and start building maps and reports in seconds.
Create professional quality thematic maps using 100,000+ data variables from our industry-leading data partners. View data by state, congressional district, city, county, ZIP Code, census tract, or block group.
Intuitive reporting tools generate detailed custom reports for any location in the country. Add individual data variables or entire groups of variables and generate a report in seconds, or create a ring study report illustrating the characteristics of the 1-, 3-, and 5-mile radius surrounding your target location.
Search from over 22 million business points from Dun & Bradstreet and add them to a map or a detailed business report to find the best place to locate your business, manage the competition, or identify services. Select specific businesses using any combination of NAICS or SIC codes, legal name, company name, number of employees, total revenue, year started, and more.
Rank locations using any variable: Want to know the top 50 wealthiest ZIP codes in your state? How about the top 25 cities in the USA with the most elderly residents? Answer these and other questions quickly and easily with our convenient ranking feature.
Export maps as high-resolution images or shapefiles, and export reports as Excel, CSV, or DBF files.
Identify target areas in maps and reports using powerful data filters that flag locations that do not meet your criteria.
Generate links to share your maps and reports, and collaborate with other SimplyAnalytics users.