Climate Fiction: Where Science and Stories Meet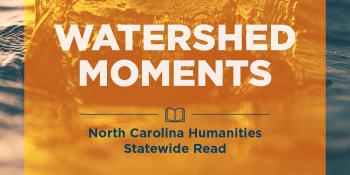 Register at: https://www.eventbrite.com/e/climate-fiction-where-science-and-stories-meet-tickets-121072401813

The North Carolina Humanities Council's Statewide Read features Dry by Jarrod and Neal Shusterman and The Water Knife by Paolo Bacigalupi. Both selections pose critical questions about our relationship with water.
As you read along with us, we invite you to join the conversation at monthly virtual book club events. These events will feature special guest speakers and provide you with an opportunity to discuss both books with fellow North Carolinians.
Want to be in on the conversation?
Join us on November 17th 2020 to kick off our series with a panel discussion on the science behind science fiction featuring Dr. Deborah Thomas and Dr. Jack Scheff of UNC Charlotte and journalist and author Jacqui Castle in conversation about the themes of natural disasters, climate change, and the water supply as presented in Dry. The panel will be moderated by North Carolina Humanities Council Trustee, Ed Sheary.
Dry* - 'The drought—or the Tap Out, as everyone calls it—has been going on for a while now. Everyone's life has become an endless list of don'ts: don't water the lawn, don't fill up your pool, don't take long showers. Until the taps run dry. Suddenly, Alyssa's quiet suburban street spirals into a warzone of desperation; neighbors and families turning against one another on the hunt for water. When her parents don't return, and she and her brother are threatened, Alyssa has to make impossible choices if she is going to survive. Critically acclaimed author Neal Shusterman teams up with Jarrod Shusterman for this story of survival, when the California drought escalates to catastrophic proportions.'
NCHC Disclaimer: The themes and situations in this book are recommended for readers over age 12 and may not be suitable for readers under age 12.
Tuesday, November 17, 2020 - 6:30pm
Macon County Public Library
Jackson County Public Library
Location
Online - At Your Computer
Related Featured Media
Water/Ways has been made possible in Macon County by the North Carolina Humanities Council.
Water/Ways is part of Museum on Main Street, a collaboration between the Smithsonian Institution and State Humanities Councils nationwide. Support for Museum on Main Street has been provided by the United States Congress.
Water/Ways was adapted from an exhibition organized by the American Museum of Natural History, New York (www.amnh.org), and the Science Museum of Minnesota, St. Paul (www.smm.org), in collaboration with Great Lakes Science Center, Cleveland; The Field Museum, Chicago; Instituto Sangari, Sao Paulo, Brazil; National Museum of Australia, Canberra; Royal Ontario Museum, Toronto, Canada; San Diego Natural History Museum; and Science Centre Singapore with PUB Singapore.