Mission of the Fontana Regional Library
"To provide the public of Jackson, Macon, and Swain counties with excellent service and convenient access to resources for their educational, informational, and recreational needs."
Our Vision Statement - "The Heart of the Community, Enriching Lives and Inspiring the Future."
70 Years of Service
In 1944, Fontana Regional Library had its humble beginnings when the Tennessee Valley Authority sponsored a regional bookmobile to visit the most remote areas of Jackson, Macon and Swain Counties. 70 years later, Fontana Regional Library is proud to coordinate a wide range of public library services for its six member libraries.

Our Annual Report highlights the number of books and materials checked out, the number of programs and participants, and the various funding governments and organizations. However, in order to grow and better serve the public, we need additional contributions to our Endowment and Library Gift Fund.

"You may also contribute to support an individual library within the Fontana Regional Library system and The Reading Rover".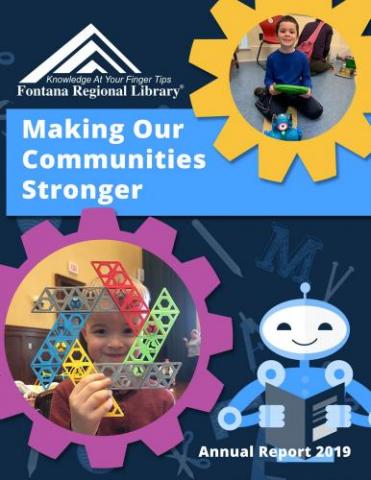 Goals and objectives are developed within each of the service priorities which will meet the needs of our communities. In July of 2016, the Fontana Regional Library Board approved the latest revision of the Long Range Plan,
Fontana Regional Library Long Range Plan 2016-2021
 (pdf)
Over the last year the Fontana Regional Library has been in the process of creating a long range plan to provide direction and inspiration for the next five years.  Funded by a grant from the State Library, a Core Planning Team has worked with Jan Letendre as facilitator to compile priorities for the goals and objectives that will guide our efforts in enhancing the services we offer our patrons.  We invited our staff, Boards, patrons, and the public to tell us what their aspirations were for our communities over the upcoming five years.  
 
Through an extensive outreach process we identified five focus areas to organize our plan around:
Education
Employment & Economy
Diversity
Connectivity
Health & Mental Health
From here we met with community leaders and representatives from our region who are making a difference in each of these areas.  We interviewed them and asked how Fontana Regional Library could contribute to and support efforts already underway and/or those getting started.  We were pleased with the reception we received and that most of those we contacted gained new insight into the breadth and depth of the services we offer.
 
Acknowledging that we needed priorities that focused on the "bread and butter" of our libraries' services, we created two more focus areas for the plan:
 
1.Recreation & Leisure Services - this focus area is intended to address:
quality of life for our users
providing resources that our users expect (e.g., bestsellers, computers and internet access, children's services, etc.)
responding to our user's interests as trends change
 
2.Operational Excellence - this focus area is intended to address:
providing great facilities with comfortable, safe spaces
delivering great customer service to our patrons
supporting staff with relevant, engaging professional development
creating a positive library user experience
 
Over the next weeks and months we'll be rolling out strategies to achieve our goals and objectives.  Individual libraries will have the opportunity to customize their efforts to the wants and needs of their unique communities.
Internal Revenue Service Disclosure Forms 
In accordance with Treasury Regulations, sections 301.6104(d)-2-5, Fontana Regional Library System is required to publicly disclose copies of the three most recent Forms 990 (annual information return) and Form 1023 (application for tax exemption) to anyone who asks for them. Any individual with access to the Internet can access, download, view and print the PDF documents without special computer hardware or software required (click on the Adobe Reader download below for a free reader). 
Form 990
Policies & Guidelines
Requests for Proposals
All PDF documents are viewable with Adobe's Acrobat Reader. Download the latest version of Reader