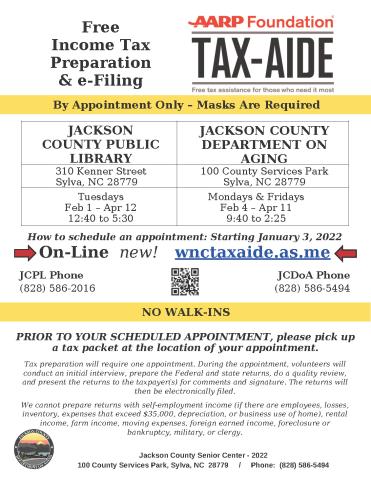 2022_aarp_tax_assistance_flyer_final.pdf
AARP Foundation Tax-Aide: Free Income Tax Preparation and e-Filing.
By appointment only - masks are required. 
Jackson County Public Library - 310 Keener Street; Sylva, NC 28779 - Tuesdays, February 1 - April 12; 12:40 to 5:30
Jackson County Department on Aging - 100 County Services Park; Sylva, NC 28779 - Mondays & Fridays, February 4 - April 11; 9:40 to 2:25
How to schedule an appointment: Starting January 3, 2022
On-line wnctaxaide.as.me
JCPL Phone: (828) 586-2016
JCDoA Phone: (828) 586-5494
NO WALK-INS
PRIOR TO YOUR SCHEDULED APPOINTMENT, please pick up a tax packet at the location of your appointment.
Tax preparation will require one appointment. During the appointment, volunteers will conduct an initial interview, prepare the Federal and state returns, do a quality review, and present the returns to the taxpayer(s) for comments and signature. The returns will then be electronically filed.
We cannot prepare returns with self-employment income (if there are employees, losses, inventory, expenses that exceed $35,000, depreciation, or business use of home), rental income, farm income, moving expenses, foreign earned income, foreclosure or bankruptcy, military, or clergy.