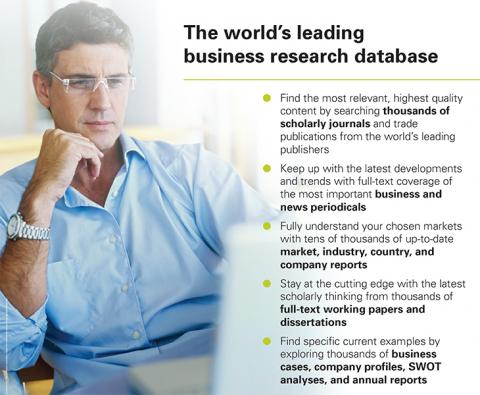 Business research from journals, trade publications, market research reports, dissertations, and working papers.
how_to_reg Creating an account
Some resources and databases allow you to create an account to store progress or research information. When creating accounts for library resources & databases, please be sure to select "Fontana Regional Library" if prompted to select a library.
Additional Vendor Information and Help
For search tips and help resources visit: 
http://proquest.libguides.com/abiinformcollection/basic
The most comprehensive ABI/INFORM™ database, this comprises ABI/INFORM Global, ABI/INFORM Trade and Industry, and ABI/INFORM Dateline. The database features thousands of full-text journals, dissertations, working papers, key business and economics periodicals such as the Economist, country-and industry-focused reports, and downloadable data. Its international coverage gives researchers a complete picture of companies and business trends around the world.
ABI/INFORM Global
Launched in the early 1970s, ABI/INFORM Global remains the gold standard when it comes to business research databases. ABI/INFORM Global massive content set - which includes important full‐text journals and much sought‐after titles from the business press as well as key trade publications, dissertations, conference proceedings, and market reports - will help today's researchers resolve tomorrow's problems.
Through agreements with some of the world's most prestigious publishers—including Cambridge University Press, Dow Jones & Company, Emerald Group Publishing, Palgrave MacMillan, the Financial Times Group, and the Economist Intelligence Unit—ProQuest provides access to hundreds of key business titles.
Key ongoing full-text periodicals include:
Wall Street Journal
Financial Times
Economist
SmartMoney
Key ongoing full-text analyses include market and industry reports from:
Economist Intelligence Unit
Oxford Analytica
Other key full-text non-journal content includes:
Working papers
Dissertations
Business cases
Conference proceedings
​
ABI/INFORM Trade
The ABI/INFORM Trade & Industry contains  in-depth coverage of companies, products, executives, trends and other topics. With thousands of titles, most of them in full text, ABI/INFORM Trade & Industry™ provides business professionals with critical information about companies, products, and executives as well as in-depth news and analysis of industry trends and developments.   With ABI/INFORM Trade & Industry, users can study and compare specific industries such as food & drink, pharmacy, telecommunications, computing, transportation, construction, and petrochemicals.
Key market research reports are available from publishers and analysts including:
Economist Intelligence Unit
Dun & Bradstreet
Business Monitor International
Euromonitor
Emerging Markets Direct
Experian
Organization for Economic Cooperation and Development (OECD)
Progressive Digital Media
Acquisdata
Oxford Economics
​
ABI/INFORM Dateline
This database includes hard-to-find local and regional business publications, including McClatchey Tribune titles, with news about local companies, analysis, information on local markets and more. It also allows users to research employment opportunities, compile data on benefits and compensation, learn about corporate strategies and other topics from a local and regional perspective.
ABI/INFORM Dateline includes major business tabloids, magazines, daily newspapers, wire services, and area business publications. Subject coverage includes:
Local and regional business information
Local company news
Local markets
Local employment opportunities
Benefits and compensation
Corporate strategies