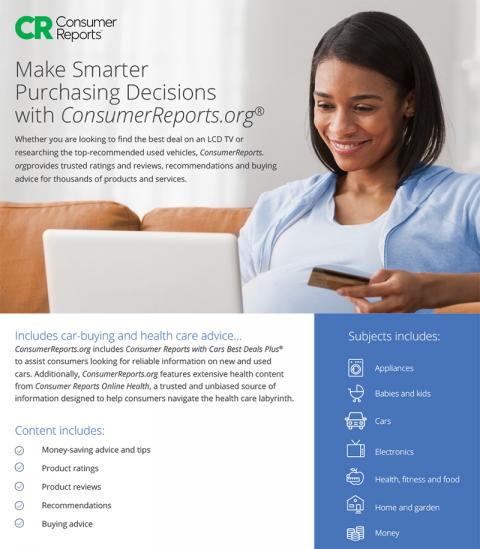 Popular collection of product reviews and recommendations for cars, appliances, electronics, personal finance, and health information.
Alternative Name or Keywords
Consumer Reports via MasterFile Premier
how_to_reg Creating an account
Some resources and databases allow you to create an account on their site to store progress or research information. When creating accounts for library resources & databases, please be sure to select "Fontana Regional Library" if prompted to select a library.
login Logging in with your Library Card
Some resources and databases will require you to login using your library card number and password/PIN. Your library card number is located on the back of your library card. Your password/PIN will be the same password you use to login to your online catalog account. The default password/PIN (if you have not reset or changed it) is usually the last 4 digits of your primary phone number.
Additional Vendor Information and Help
Overview
​Consumer Reports is the world's largest nonprofit product-testing organization and has been helping subscribers find better, safer products for 80+ years. Consumer Reports accepts no outside advertising and no free test samples, and employs shoppers and experts to buy and test the products reviewed. 
Includes car-buying and health care advice. ConsumerReports.org includes Consumer Reports with Cars Best Deals Plus® to assist consumers looking for reliable information on new and used cars. Additionally, ConsumerReports.org features extensive health content from Consumer Reports Online Health, a trusted and unbiased source of information designed to help consumers navigate the health care labyrinth.
In addition to product ratings and reviews, users will find in-depth advice, tips and trends written by Consumer Reports experts. Frequently updated articles, blogs and video content allow consumers to peruse the latest consumer news — whether they're looking to learn more about budget-friendly home improvement plans, understanding the benefits and risks of retirement options or searching for the latest recalls of baby products.
With ConsumerReports.org, users can:
Compare price, performance, and reliability all in one place with expert reviews
Purchase the best product on an ad-free website from favorite retailers like Amazon, Walmart, Home Depot, etc.
Connect with verified home service professionals to help with home renovation projects and installations
Enjoy a haggle-free car buying experience through Consumer Reports' Build and Buy program
Subjects
Buying advice
Product ratings
Product reviews
Recommendations
Money-saving advice and tips
Videos
Appliances
Cars
Babies and kids
Electronics
Health, fitness and food
Home and garden
Money