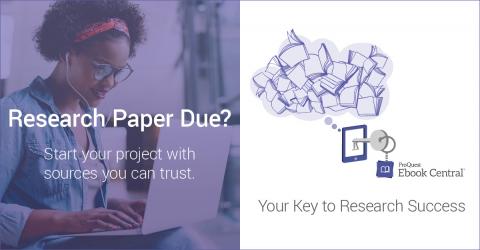 Scholarly titles supporting student and faculty research, and general nonfiction on topics such as school & studying, career development, arts & leisure, and practical life skills.
Alternative Name or Keywords
Ebook Central Academic and Public Library Complete
how_to_reg Creating an account
Some resources and databases allow you to create an account on their site to store progress or research information. When creating accounts for library resources & databases, please be sure to select "Fontana Regional Library" if prompted to select a library.
login Logging in with your Library Card
Some resources and databases will require you to login using your library card number and password/PIN. Your library card number is located on the back of your library card. Your password/PIN will be the same password you use to login to your online catalog account. The default password/PIN (if you have not reset or changed it) is usually the last 4 digits of your primary phone number.
Additional Vendor Information and Help
Features available in Ebook Central make it a great resource for research. You can read online or download a chapter or the entire book for offline use and work in your preferred language with on-the-fly translations for the Ebook Central interface and related email alerts, including Chinese (simplified and traditional), French, German, Japanese, Korean, Portuguese, Spanish and Turkish.

With Ebook Central, you can search for keywords across the entire ebook and see the pages and the frequency with which the search terms appear, instantly cite the ebook in the format of your choice, and annotate by highlighting in 3 colors, bookmarking pages, or creating notes tied to a specific passage, or the entire page. Enhanced "book detail" page to help students pinpoint the exact content they need for research or classwork — at both the chapter and subchapter level — and access it online or download it for later use. Clear table-of-contents-level prompts for reading online or downloading, plus DRM-free chapters with file names that reflect the chapter title.