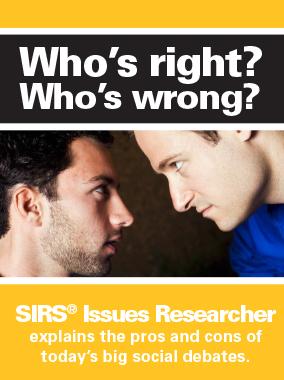 Research the pros and cons of current issues and enduring social issues through full-text articles, multimedia, primary sources, government documents and reference materials.
how_to_reg Creating an account
Some resources and databases allow you to create an account to store progress or research information. When creating accounts for library resources & databases, please be sure to select "Fontana Regional Library" if prompted to select a library.
Additional Vendor Information and Help
For help resource visit:
http://proquest.libguides.com/issuesresearcher/education
Overview
SIRS Issues Researcher provides background and current analysis necessary for research and understanding of 360+ current and pervasive Leading Issues. Analysis and opinions cover the pros, cons, and everything in between on the most researched and debated social issues. Editorially created Topic Overview pages help build a solid foundation for understanding the issue. Critical Thinking and Information Literacy skills are promoted through engaging Essential Questions and supporting viewpoint articles. All articles, websites, multimedia graphics, charts, maps, statistics, primary sources and government documents are editorially-selected from thousands of global sources. SIRS Issues Researcher supports school curriculum and differentiated instruction through a wide-variety of features and tools including: State and National standards correlations, text-to-speech & language translation, Lexile scores, editorially written article summaries and citation generators. Research guides, and intuitive links to third-party platforms like Microsoft OneDrive, Google Drive, Google Classroom and EasyBib help students complete their assignment successfully and efficiently.
Content
360 Editorially-maintained Leading Issues topic pages
100% Full-Text
Editorial Summaries
Editorially-created Issue Timelines
Lexile Reading levels
2,100+ Sources, most as text+graphics
80,000+ Subject headings, indexed by editors
high quality graphics & charts
3000+ Interactives, maps, timelines & primary sources 
Features
Standards Alignment (including State, National and International Curriculum Standards)
Trending and Editor's Picks Leading Issues
Daily updating
Article Text to Speech
Language Translation
Citation Generator
Integration with Microsoft OneDrive, Google Drive and Google Classroom
Links to Easy Bib
Cross-search capability on ProQuest platform
Mobile-friendly UI Design
Subject Coverage
Business & Economic
Civil Rights & Liberties
Communication & Technology
Crime & Punishment
Drugs, Health & Wellness
Environment & Science
Ethics
School, Family & Youth
World Cultures & Politics
Educator resources are available at:
http://proquest.libguides.com/c.php?g=949746&p=6849051