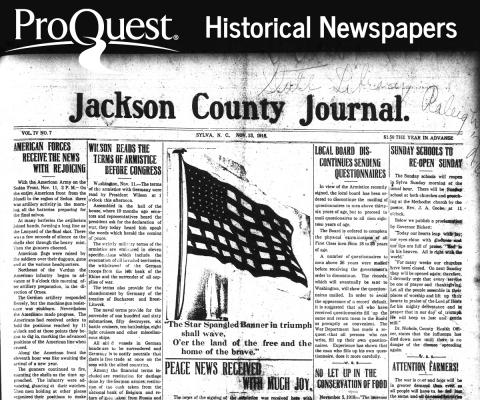 Newspapers.com North Carolina Collection. 3.5 million pages of digitized content from over 1,000 NC county newspapers.
how_to_reg Creating an account
Some resources and databases allow you to create an account on their site to store progress or research information. When creating accounts for library resources & databases, please be sure to select "Fontana Regional Library" if prompted to select a library.
login Logging in with your Library Card
Some resources and databases will require you to login using your library card number and password/PIN. Your library card number is located on the back of your library card. Your password/PIN will be the same password you use to login to your online catalog account. The default password/PIN (if you have not reset or changed it) is usually the last 4 digits of your primary phone number.
Additional Vendor Information and Help
For search tips and help resources visit: 
https://proquest.libguides.com/newspapersdotcom/search
Overview
Includes:
The Franklin Press (1888–1906)
Some historic newspapers are digitized at the page-level, while others are digitized at the article level. The basic searching function is identical for both article-level and page-level. Every part of every page of ProQuest Historical Newspapers is full-text searchable, whether they are digitized at the article-level or page-level. If you search for a term such as the name "John Kennedy" and it appears in the text any place on a page, it will generate a hit for that page—whether it is in an article title, in an article, in an advertisement, etc.
The primary difference in searching article-level titles is in the Advanced Search: because they include article-level metadata, newspapers digitized at the article-level provide users with the ability to restrict search results to different portions of the newspaper (articles, advertisements, cartoons, etc.).
The article-level result is a bitonal (black and white) image displayed at 300dpi (dots per inch). The page-level result is a high-resolution greyscale image displayed at 400dpi, which provides almost photographic-like quality of the microfilm images. In both cases the images may be scrolled and zoomed as needed, and downloaded/saved.