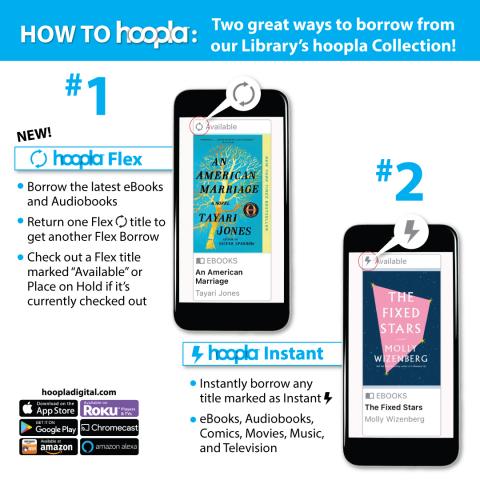 Downloadable audio and ebooks on a variety of topics, including language learning, history, biography, classic literature, and more. Compatible with all popular e-readers. An app is available for download. Users will need to make a personal account to use this resource.
Steps for User Registration- If you don't already have a hoopla account
Users will need to register for an account before accessing NC LIVE content on hoopla.
Enter an email address.
Select library as "NC LIVE".
Enter your library card number and add "NC" at the end, for example "2000385723NC".
Steps for User Registration- If you are a student
Visit hoopladigital.com or open the app.
Register with your student email address.
Choose NC LIVE as your library.
Enter any number you like in the library card space.
how_to_reg Creating an account
Some resources and databases allow you to create an account to store progress or research information. When creating accounts for library resources & databases, please be sure to select "Fontana Regional Library" if prompted to select a library.